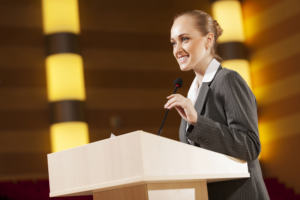 For years, women have learned from childhood to communicate (verbally and non-verbally) in ways that can undermine their ability to get ahead in the business world.
As women continue to move into executive positions, we need to build our skills to become powerful communicators while utilizing our own style.
Even when a woman speaks effectively, body language may sabotage her message (research shows that nonverbal signals carry about five times as much impact as the verbal channel).
One-on-one coaching for women strengthens communication by focusing on skills needed for effective speaking and powerful presentations.
Videotaping and feedback help participants see their progress.
All presentation skills are covered. And the focus is on the following six areas:
Vocal power
Gestures
Assertive body language and words
Body stance
Facial Expression
What to Wear for a Presentation
If you have any questions about our Communication Coaching services for women, call us today at 404-861-5559 or contact us. We would love to hear from you and help you with your specific communication needs.